Synapsium 2023 Submissions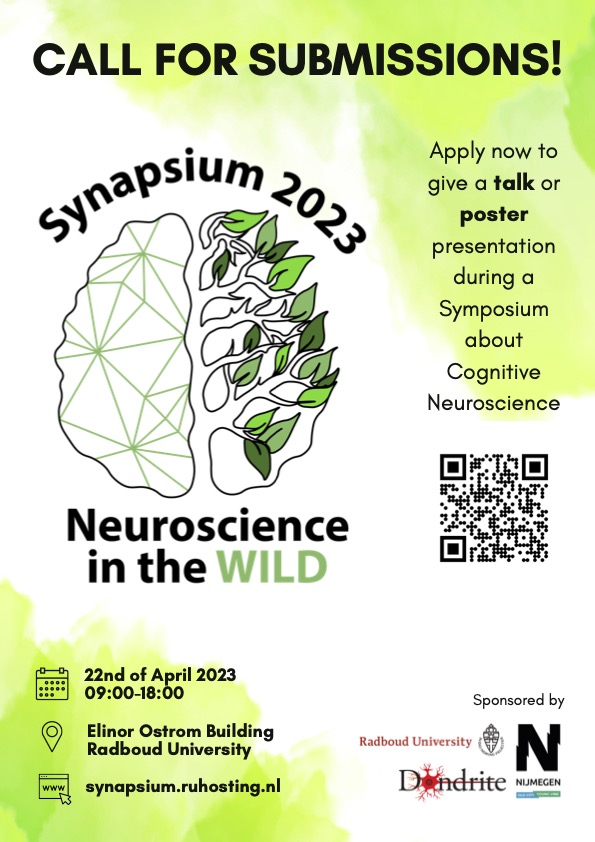 Synapsium's applications are finally open! Are you currently entering the final phase of a research project, or have you recently completed a project related to cognitive neuroscience? Then do not miss the chance to present your work at Synapsium 2023 alongside fellow students from other Dutch and international institutions. This is a great opportunity to practise your presenter skills in a friendly yet professional environment!
You can apply either to be a student speaker or poster presenter (in case you would be happy with either a poster or a presentation, you can select both options in the application form). Applicants who live more than 2 hours away from Nijmegen are eligible to apply for a travel grant of up to 50 euros. You can apply for the grant in the submission form.
Synapsium this year will take place on 22 April 2023 at the Elinor Ostrom Building at Radboud University. The student presentations are scheduled for 11:15-11:35 and 11:40-12:00. At every time slot, two student speakers will present their work simultaneously. The poster presentations are scheduled for 12:00-13:30 and 14:30-16:45.
Please read the documents below for the guidelines of submission and some useful tips. The submission deadline is 13th of February 2023 at 23:59 CET.
If you have any questions or concerns you are welcome to contact us at synapsiumdondrite@gmail.com, and we will get back to you as soon as possible.
The presentation must be about research in the domain of cognitive neuroscience, and related to the topic of Neuroscience in the Wild, in one way or another. The presentation must be in English and designed for master students with potentially very limited knowledge of your exact field.
We welcome final year Bachelor (Honours) students, Master students and early PhD students. The presenter must contribute to the main part of the research. Please make sure to list all authors of the presented project, as well as their respective affiliations. It is possible that your institution/university or your subsiding party requires you to list them when publishing your project, so do not forget to do this. Include references to key papers, and if possible, a correspondence address.
We recommend that you use colours in your figures. Coloured words and graphics should be well visible, but make sure not to make contrasts and colour too intense, or otherwise readers might become distracted or experience reading your poster as stressful. We would like to remind you that you will probably also have readers who are colour-blind. It is therefore advisable to consider using a colourblind-friendly palette. You can also use other cues to design your figures or to assist the colour-blind (e.g. different line styles, such as dashed, dotted etc.).
Speakers will be selected by the Committee based on an abstract of 300-500 words.
The submission deadline is 13th of February 2023 at 23:59 CET. You will receive a confirmation email from us stating whether we have received your submission in good order. You can expect the final decision about your application at the beginning of March.
The talk should be maximally 15 minutes long (there will be 5 minutes extra for questions and open discussion afterwards).
Your talk should include at least the following components:
                Introduction and research question
                Methodological approach
                Results
                Discussion and conclusion
We would like you to supplement your talk with slides, but do not let them be your talk. Keep information in your slides at a minimum, with little text and only the most important points.
If you are unsure about the contents of your poster, keep in mind that a poster can and should only convey the key points that are necessary to understand your project, such as the rationale, the most important results and conclusions.
Try to strike a good balance between conciseness and clearness in your language – your poster will read much like an illustrated abstract. Where possible, consider supporting or even replacing text with graphics. This will not only help your readers to understand your project better, but it will also spark discussions, during which you can talk your audience through your project.
You can present your poster either in landscape or portrait. We recommend an A0-size poster. Typically, your university or faculty should have templates that you can use for creating your poster. For most posters, you can easily divide your content into several columns (3 works for landscape). 
Your poster must be legible from 1-2 m distance, so choose appropriate font sizes. Consider a font size of 18 pt as an absolute minimum; font sizes around 40 pt work much better in general. Use slight differences in font size, bold, italic etc. to lend emphasis to headings or other important parts of your poster.
When using references, it is not necessary to adhere to APA style strictly. We recommend choosing a short and concise form for referencing sources, such as IEEE or Nature style. This not only saves precious poster space but also makes your poster easier to read.